Cashman Likes Double play Duo's Praise for Gleyber.
When I brought it to Brian Cashman's attention the praise given to one of his star pupils, Gleyber Torres, from the greatest double play combination in the history of the game, Brian smiled and said," they would know better than anybody. Between Roberto Alomar and Omar Vizquel you are talking about twenty gold gloves and a tremendous amount of knowledge of the overall game of baseball. That's really something." When I gave Gleyber the message from the dynamic duo, he smiled and said that he is truly humbled. By the way, congratulations on your first big league hit Mr. Torres.
Severino, a Jokester
Luis Severino has become a clubhouse leader in more ways than one. As a leader in the game, the Thurman Munson's, Lou Piniella's and the Ron Guidry's knew when to be serious, and when to be funny or crazy with their team mates in order to keep the team loose. The other day when Gleyber Torres got his first major league hit off the Minnesota Twins, the umpire threw the ball to the Yankees dugout as a souvenir for the young rookie. Severino had a ball in his hand and as he was catching the ball from the umpire he acted as if he was throwing it into the stands. If you kept your eyes on Torres you would have seen a shocked look in his face. At that point Severino put up the real baseball and everyone in the dugout began to laugh.
Thurman would have laughed too!
Wells Bobble Head Big Hit With Kids
David Wells bobble head night was a great night for all the kids at the Stadium on Monday. Even though Wells didn't reach home plate when throwing out the first pitch, the kids had a great time with the always so much fun Wells. When the kids got the figurine they couldn't believe how the face looked so much like the real man. Even though most of the kids weren't born when Wells threw his last pitch in the big leagues, they just couldn't get enough of him up in suite six. I don't think Wells has ever taken so many pictures. David by the way was wonderful to all of them.
YES Boss Checks In On Men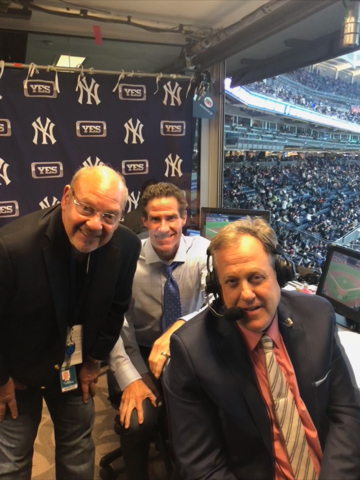 I got to see the big boss of the Yankees Broadcast team John Filippelli enjoying his broadcasters Michael Kay and Paul O'Neill doing their jobs. In between innings I asked the trio for a picture for their fans. I have to admit that even though I'm an old school guy who loved announcers Phil Rizzuto, Frank Messer and Bill White, these guys are pretty darn good.
My Mommy the Yankee Cop
Vannessa Delossantos has been a police officer for quite a few years in the south Bronx. When not dealing with street thugs in the neighborhood, she gets a little down time protecting VIP suites at Yankee Stadium. On the night that they gave out the Wells Bobble heads her husband surprised her by purchasing two tickets so that her son could see the Yankees play and see mommy at work and get a bobble head.
WADO am Radio Yankees Spanish Station

If you don't speak English then you're listening to WADO. The broadcast team is led by radio legend Ricky Ricardo (no not Lucy's husband) and Francisco Rivera.
The guy that makes it all happen is producer Rene Luna. I consider Rene an unsung hero. He is one of the most creative and tireless producers that I have been around. I have been around a lot of producers at ESPN Deportes and not too many can hang with this man. I learn by watching because a wise man once told me whatever you can learn at any major university you can learn at the University of Steinbrenner. Well Mr. Steinbrenner was pretty much always right about those things. I know he would agree with me that WADO radio and Spanish speaking Yankee fans are lucky to have Rene and his two legendary announcers.